Fujiiryoki has brought together the latest technology to bring you the best massage chair
Fujiiryoki understands that "each person has different troubles".
Some of us feel a stiffness from the neck to the upper shoulders, while some of us feel pain inside the shoulder blades.
Everyone suffers from a different problem, be it back strain, lower back pain or tired feet, depending on our lifestyle.
Fujiiryoki's Cyber Relax Series "AS-1100" addresses each and everyone's problems by making use of numerous sophisticated functions.
Technology that "goes deep"
Our commitment to the industry's leading Mecha is to remain constantly innovative.
To relieve severe stiffness specific to people of the present age, the largest protrusion of knead balls in the industry (approximately 12.5 cm(*)) target the deeper layers of muscles. Two knead balls drive up/down, left/right, and front/back, and the duration is also closely controlled. The mecha unit uses innovative power and techniques to capture deep layers of stiffness more deeply and delicately.
*As researched by our company (as of May 2017)
The amount and timing of air supply is controlled so as to reproduce the flexibility of hand massage.
Air massage is based on the repetition of pressing and releasing. To reproduce the power and flexibility of the hand massage of a professional masseuse, a certain pace was required, in addition to the amount and timing of air supply. In leading the industry, Fujiiryoki installed a flow rate adjustment function that freely controls the flow rate of air. One airbag inflates quickly and instantaneously, while another one inflates slowly and gradually. Airbags with powerful movements that gives unprecedented pressure.
NEW
Intensive massage for the soles
Foot sole shiatsu
Feet are secured between airbags near the ankles and instep and the rollers near the sole for a shiatsu massage.
We use special rollers that match the arch of the feet's soles. Airbags at the ankles and insteps work in tandem, which holds your feet and gives you a massage that feels like shiatsu. And heaters at the toes help to promote blood circulation.
Two types of heaters warm up the areas around the shoulder blades, which tend to stiffen,and the soles of the feet, which tend to get cold.
Back center heater
Experience the luxury of a warm massage.
Foot sole heaters
These parts tend to be cold, thus they are targeted for warming up.
Note: Use of the heater only is also possible.
Note: Specified temperature of approx. 43°C (The specified temperature and the effective temperature are not the same.)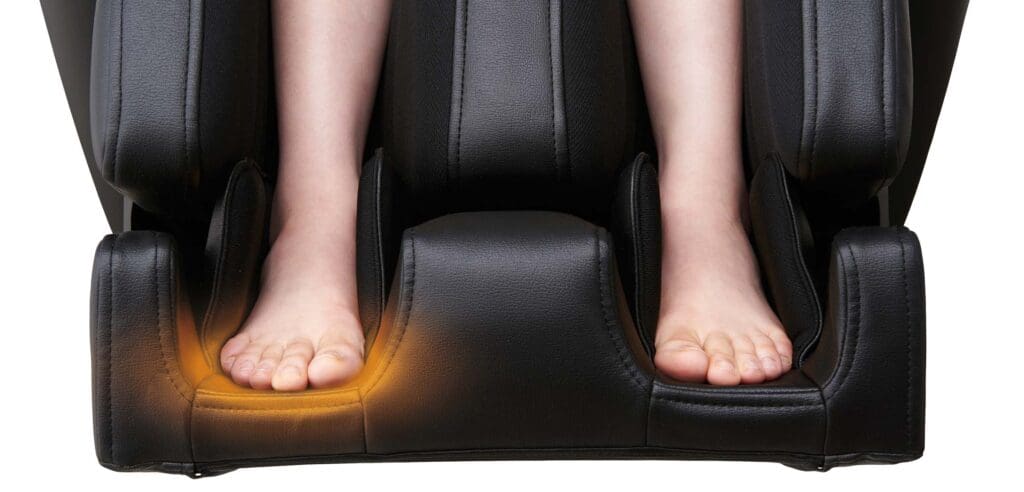 Full-color touch panel remote control
Operability is pursued due to the vivid-color display and user-friendly menu interface.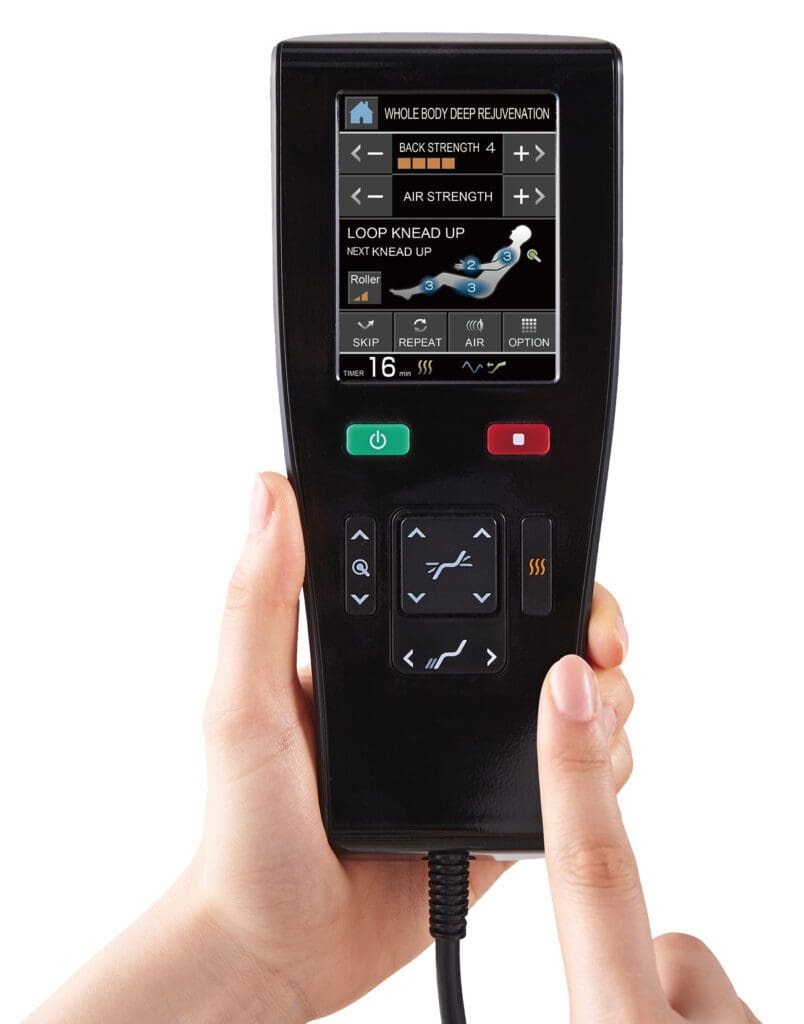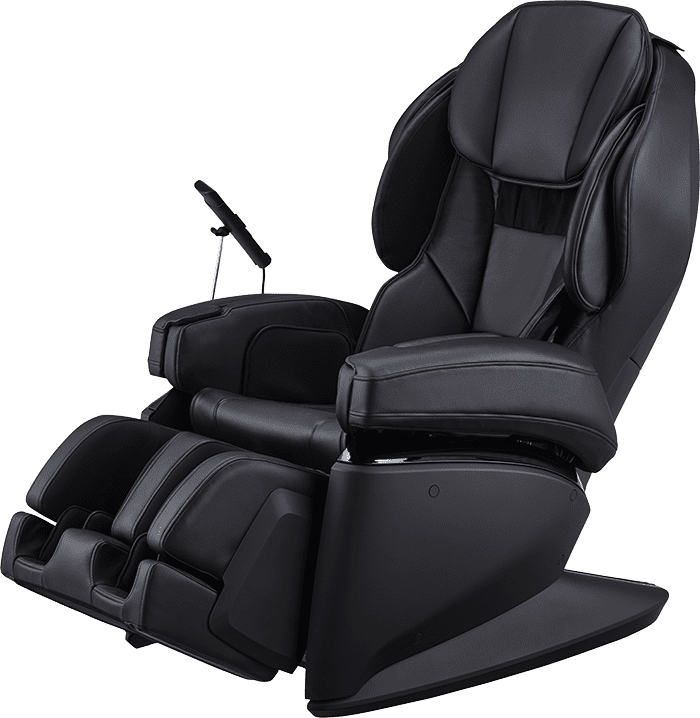 JP-1100 Black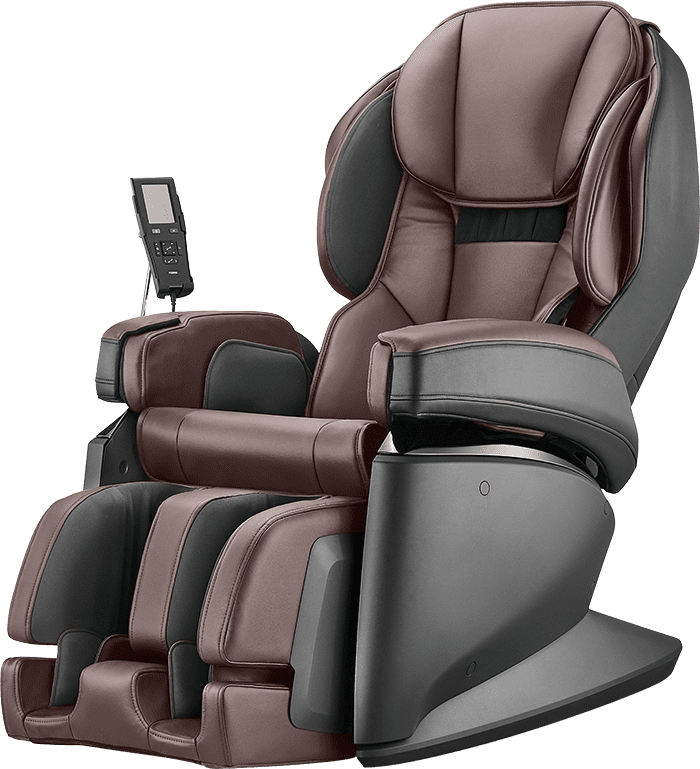 JP-1100 Brown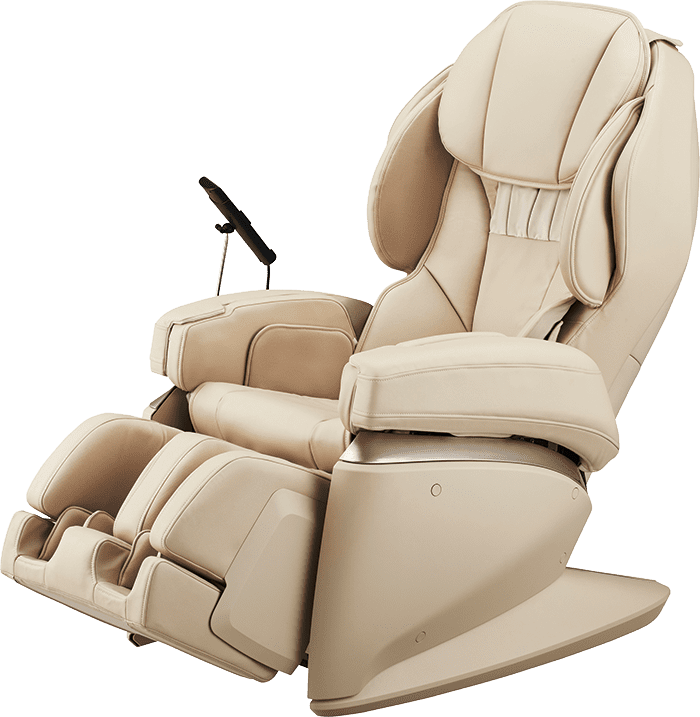 JP-1100 Beige
Dimensions

(During Ottoman receiving)
Width 760 x length 1,380 x Height 1,250mm

(During maximum usage of Arm/leg)
Width 880x length 2,000 x height 740mm

Minimum width before assembly (Approx)

680mm

Reclining angle (Approx)

110~157 degrees

Mass (Approx)

78kg

Power

AC100V - 240V(50/60Hz)

Consumption Power

130W (Heater: 40W) (Standby power: 0.3W)

Rated time

30 Minutes

Country of Origin

Made in Japan
Purpose and Usage Effects
Hand massage substitute. For general home use.
Allaying tiredness
Promoting blood circulation
Eliminating muscle fatigue
Relieving muscle stiffness
Relieving neuralgia and muscle soreness
Important safety instructions
The following persons are strongly recommended not to use this product. Certain physical abnormalities may occur.
Persons prohibited from receiving a massage by a medical physician(For example, those suffering from thrombosis, severe aneurysm, acute varicose veins, various kinds of dermatitis and skin infections [including inflammations of subcutaneous tissue], etc.)
The following persons must consult a medical physician before using this product, as certain physical abnormalities may occur.
Persons using a medical electronic device embedded in the body such as a pacemaker susceptible to electromagnetic disturbances / Persons with malignant tumors / Persons that suffer from heart trouble / Persons that are pregnant or persons who have immediately undergone childbirth / Persons that suffer from paresthesia related to peripheral circulatory disturbances due to diabetes, etc. / Persons with wounds on their skin / Persons that require bed rest / Persons with body temperature exceeding 38°C (when strong acute inflammation symptoms, malaise, chills, blood pressure fluctuations are observed, when debilitated) / Persons that suffer from osteoporosis, spinal column fractures, or acute pains / Persons with abnormalities in the spine, or those whose spines are bent sideways / Persons suffering from inflammation such as sprains and muscle strains / Persons with herniated disks / Persons that are acknowledged to have a loss of thermal sensation / Persons that feel an abnormality in the body other than the above, or persons receiving medical treatment.
Please do not allow use by unattended children or persons unable to control their own functions. Please do not allow infants near the chair.