Fujiiryoki JP-3000 Massage Chair
A whole new massage experience that allows both body and mind to be at their best.
There have been dramatic changes in the way we live and work all over the world. Various types of fatigue and environmental changes can also cause mental stress. In order to be active every day and be at one's very best, it is necessary to take care of both body and mind.
A conditioning massage created to take care and tune up physical, mental and health state.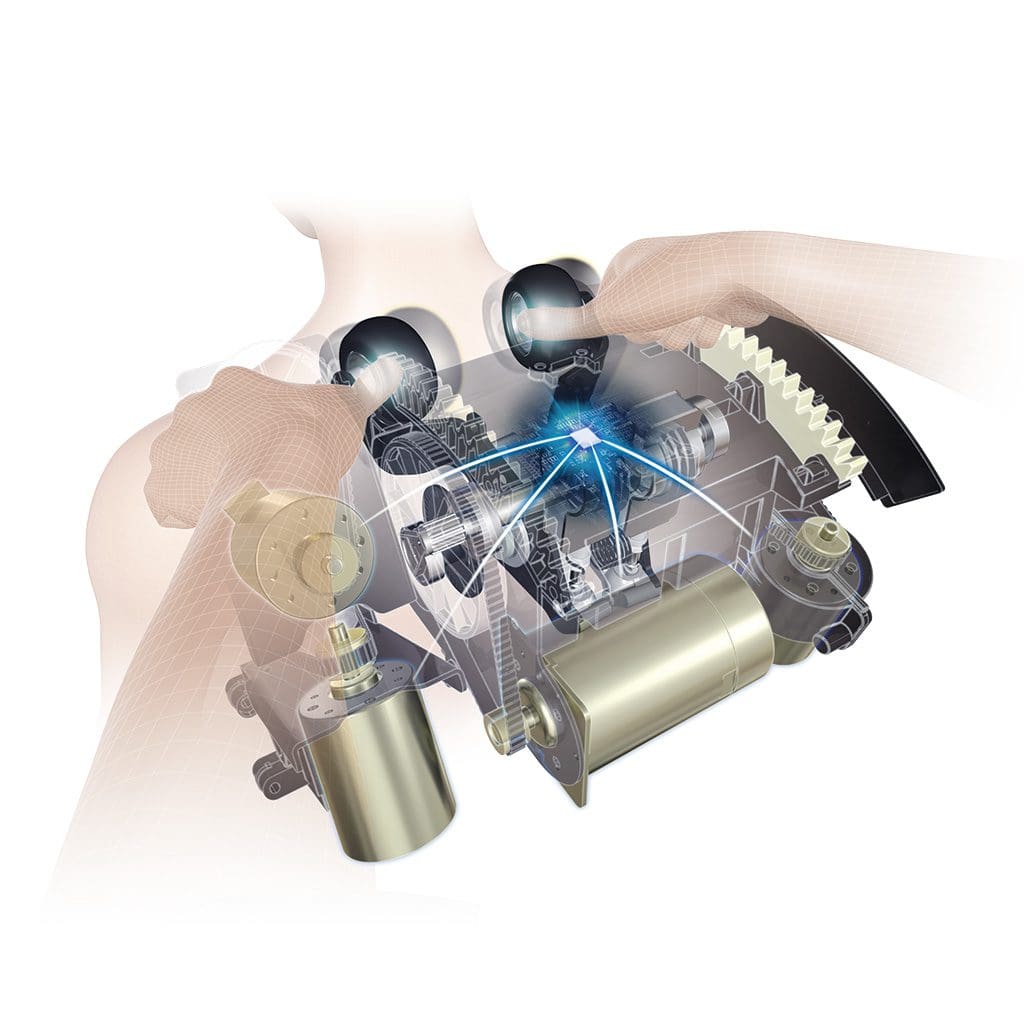 Bodycare
Using AI analysis to run the massage that best suits the body's current state.
Balance
Using a variety of stretches to adjust and balance the muscles.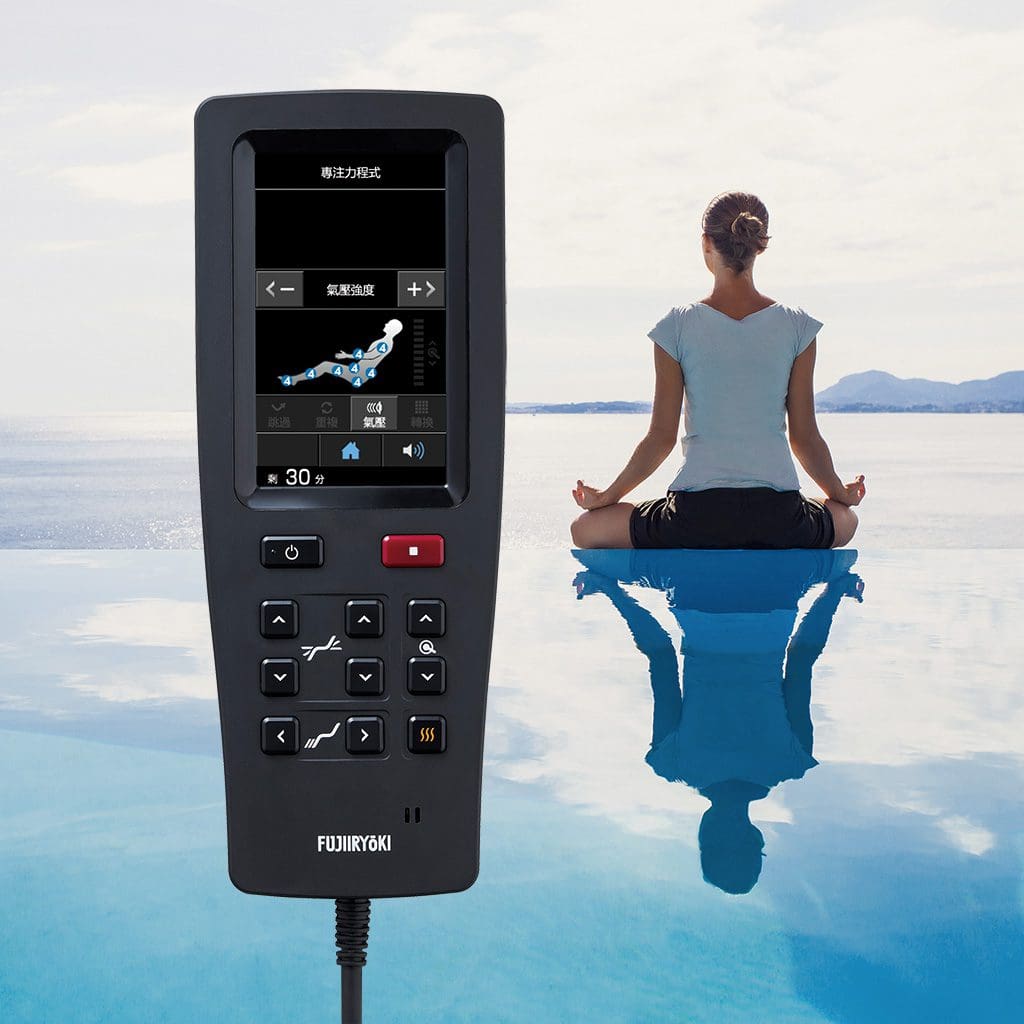 Being
Creating moments of relax to take care of the mental state.
Through the AI, the control system automatically passes the user's body shape, muscles status and other information into the massage. Intensity, techniques, smoothness are adjusted and implemented according to each user.
The two kneading balls mecha has been cultivated by Fujiiryoki for more than 20 years. Fine and efficient, Japanese quality kneading is achieved through the AI.
Through the AI control of kneading and a high-precision motor, the past mechanical movements have been successfully upgraded into a real hand-like, smooth massage. Moreover, intensity is adjusted according to the muscle state of each person in real time to relieve body stiffness with a stable and on-point massage.
Click, drag or scroll on image above to activate 3D-viewer.
By detecting 8 backline massage points, it's possible to automatically optimize and adjust the massage according to the user.
The "Shoulder Position Detection System", which detects the position of the shoulders, calculates the massage point, then the "Backline Detection System" detects the backline by measuring 8 different points along the spine.The 5D-AI movement PLUS automatically adjusts itself along this spinal curve to achieve the most comfortable massage.
User's shoulders position, back line, airbags intensity and reclining angle can all be registered.
High-efficiency Air Pressure System
Through a carefully calculated airbag configuration and a fine strength adjustment function, the air massage perfectly fits the whole body.
The strength of the airbags can be adjusted in 7 levels for 8 parts of the body. It's possible to experience the Pulse Mode, that with very regular action promotes blood circulation, as well as the Air Massage Mode, that through different speeds imitates a real hand massage.
Exclusive
High-speed Inflation Airbag System
The built-in high-flow and high-pressure air pump allows the high-capacity airbags to operate powerfully, enhancing the massage effect.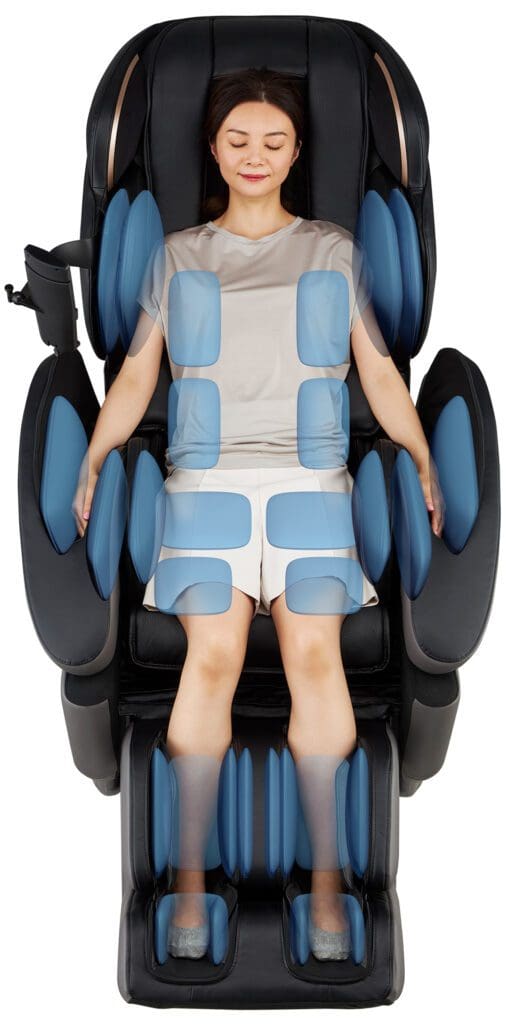 5 types
Full Body Stretch
Stretching that carefully tunes up the whole body (30 minutes)
Everyday full-body Stretch Menu (18 minutes)
Technical Stretch
Extreme Whole Body Stretch
Whole Body Stretch
Whole Body Air
Bluetooth®︎ Supporting Speakers
Specially designed left and right bass-reflex speakers are placed near the ears to achieve a luxurious sound- surrounded space.
Clear Voice Sounds
Stereo Sound
Rich Output Sound Range
The Bluetooth® typeface and logo are registered trademarks of Bluetooth SIG, Inc. and Fujiiryoki Ltd. is authorized to use the above marks.
All other trademarks and company names are the property of their respective owners.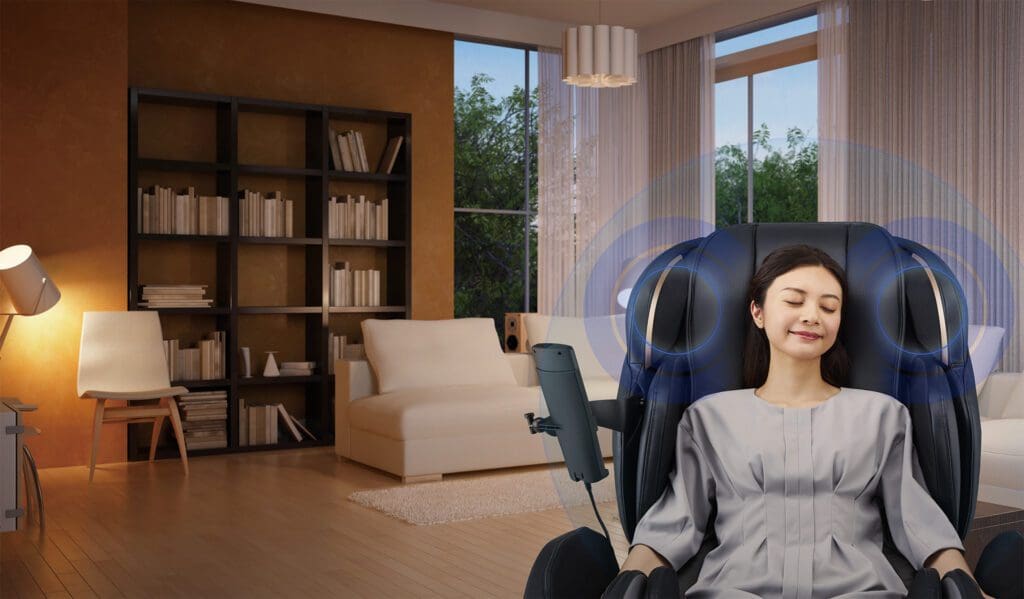 Two heating systems are built in to create a more comfortable massage time.
Foot Sole Heating
Gently warming up the feet, which tend to get cold easily.
The warming function can be used independently
Set temperature: about 43 degrees (set temperature is different from perceived temperature.)
Exclusive
Quick- Heat Multi-heaters
The pads with built-in warming function can be placed behind the back to warm up around the waist, or can be unzipped and placed on the front to warm around the abdomen.
New
Mindfulness Course [automatic]
Based on the concept of "meditation", a 30-minute massage performed through airbags only.
The slow air massage carefully and gently soothes the entire body.
The relaxation level is enhanced by the comfortable lying position, also perfect to optimize the stretching effects.
You can actually feel the stretching effect.
4.3" Full Color Touch Screen Remote Control
The large screen is easy to read and operate.
Voice Guidance Function
An easy-to-understand voice guidance helps with each operation step.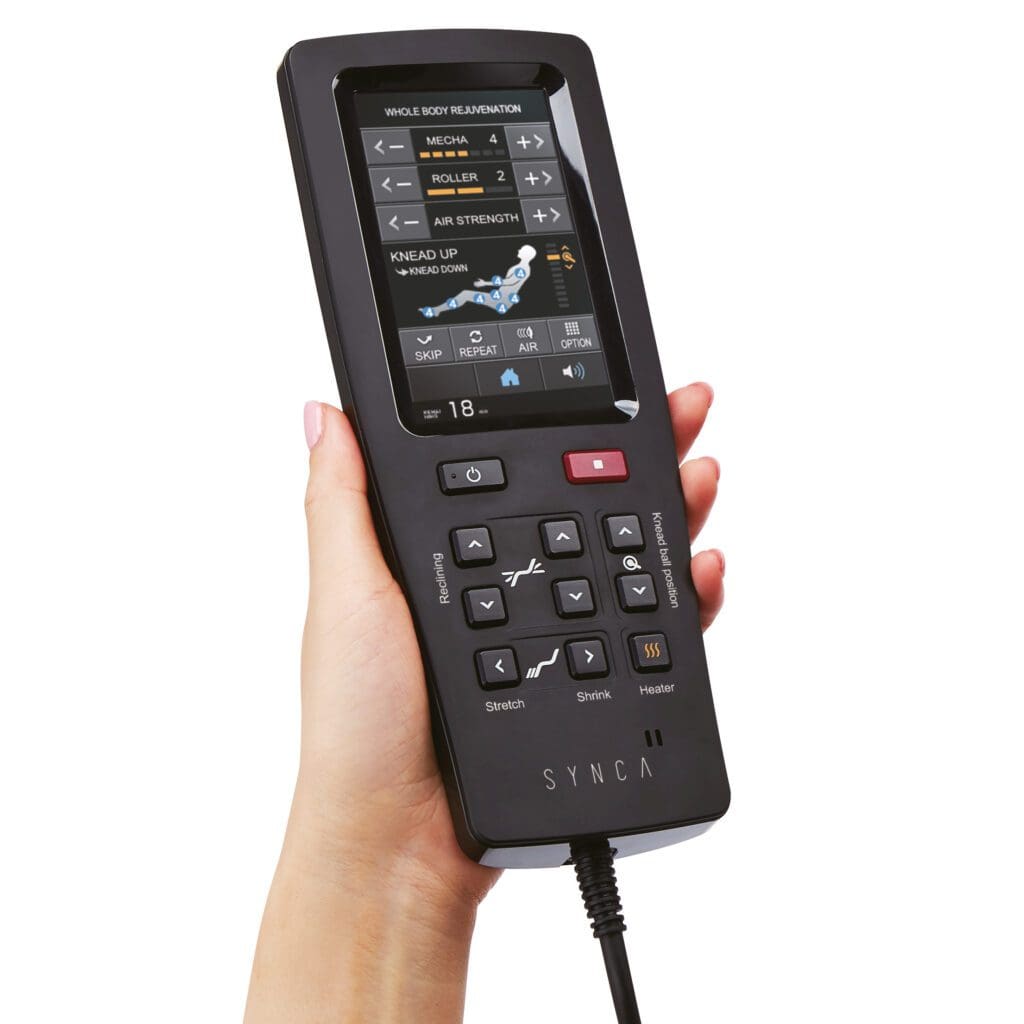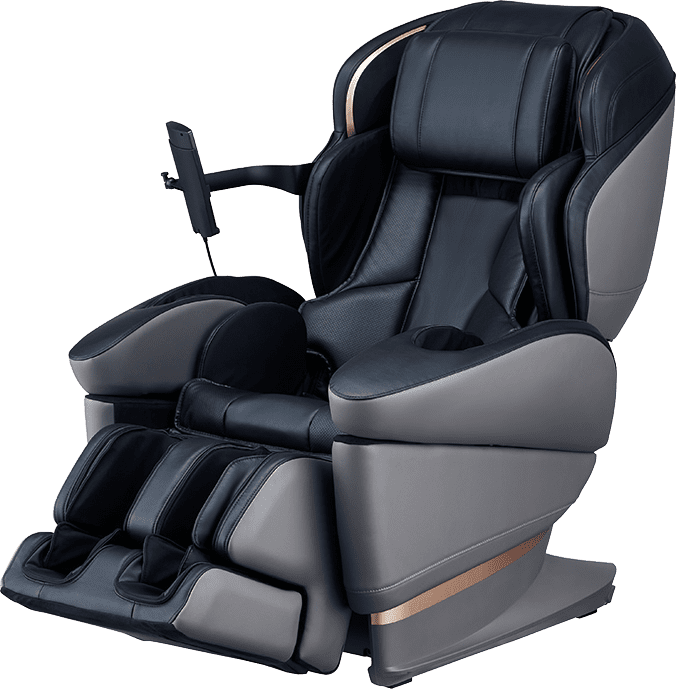 JP-3000 Black Grey
JP-3000 Smoke Beige
JP-3000 White
Dimensions

(with tucked away footrest)
about 86cm width, 141cm length, 124cm height

(reclined and with extended footrest)
about 86cm width, 212cm length, 73cm height

Minimum width before assembly

about 70cm

Reclining angle

about 117~164 degrees

Weight

about 96kg

Power source

100-240V (50/60Hz)

Power consumption

125W

Continuous use time

30 minutes
(automatic timer 7/18/30 minutes)

Country of Origin

Made in Japan
Purpose and Usage Effects
Hand massage substitute. For general home use.
Allaying tiredness
Promoting blood circulation
Eliminating muscle fatigue
Relieving muscle stiffness
Relieving neuralgia and muscle soreness
Important safety instructions
Do not use if you have the following conditions, otherwise it may cause abnormalities in your body.

People who are not allowed by doctors to be massaged (examples: thrombosis (embolism), severe aneurysm, acute venous tumor, various dermatitis and skin infections (including inflammation of subcutaneous tissue), etc.)

If you have any of the following conditions, please be sure to consult your doctor before use, otherwise it may cause abnormalities in your body.

People who use devices susceptible to electromagnetic waves such as pacemakers or have implanted medical electronic devices in their bodies people with malignant tumors
people with heart disease
women who are pregnant or have just given birth
people with high peripheral circulation impairment due to diabetes
people with skin trauma
people who need to keep their bodies and minds quiet
people with a body temperature of 38°C or higher (fever) (e.g., people with acute inflammatory diseases [malaise, chills, blood pressure changes, etc.] and who are in a period of intense symptoms), people with osteoporosis, spinal fractures, acute [painful] diseases,
people with abnormalities of the backbone (spine) or scoliosis
people with sprains, strains and other inflammatory symptoms
people with herniated discs
people with tenosynovitis
people who are considered to have a loss of temperature sensation
people with other special physical symptoms, or people who are being treated at medical institutions

Do not allow it to be used by children alone or by people unable to express their own will. Please also keep children away.